Runic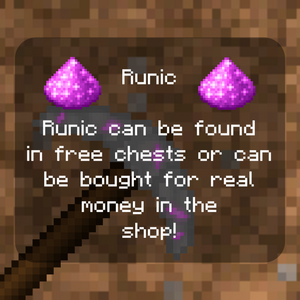 The Runic is the second and premium Currency of PickCrafter. It can be obtained in different ways, including paying with real-life money.
Runics are maybe hard to get but there are some tricks to get them.
Each day on mobile, you can watch 30 Ads to get 1 Runic per ad
.

Every time you open a Free Chest, there's a chance to gain between 0 to 3

.
Even though some Quests are hard, you can still try to gain 50

with them.
They all can be found where the player opens their Chests.
Depending on the time Chests takes to open.